---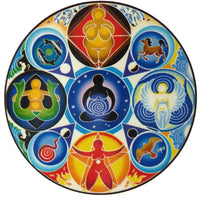 Sale
Archetypes for earth, water, fire, air, and space. In between the Goddesses are the moon cycle, and the creatures of the earth: birds and insects, reptiles, fish, and animals, honoring all the varieties of beings, all our relations. 4 " Round; Printed both sides.

Air Goddess (East, Spring): a winged maiden flies free with a triple spiral, symbol of eternal life energy cycles, colors are yellow and blue.

Fire Queen (South, Summer): She lights up a pentacle, symbol of power and protection, holding an arc of light, a power point within her solar plexus. Colors are red, orange, yellow.

Water Goddess (West, Fall): A double tailed mermaid in front of a mandorla, symbol of the feminine and sexuality. Colors are blue, black, green.

Earth Mother (North, Winter): This round Mother sits within the circle and diamond of the earth, with crystals around her. Colors are white, black, brown, red.

Ether/Inner Space Goddess (center, Eternity): sits in meditation, energy spiraling deep within, in the Cosmic Circle of creation. Colors black, purple.
Artwork by Amara Karuna
Customer Reviews
Looks Good
Looks really good when attached to the window.
Frequently Asked Questions( FAQ )
Click here to view Questions and Answers