---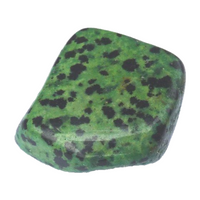 Sale
Green Dalmatian Jasper is a grounding stone that helps those who are overly analytical center themselves and relax. It harmonizes the emotions and allows one to reflect on past decisions. Green Dalmatian Jasper also helps people become in tune with nature and can help to calm and soothe animals. Since this stone contains black tourmaline it also helps to transmute negative energy while protecting one from harm.
In general, all forms of Jasper are recognised as the supreme nurturer.  Jasper holds and supports during times of stress, bringing a sense of completeness and tranquillity.
Jasper is often used to help with dream recall and shamanic journeying.
It is a stone of protection and absorbs all types of negative energies.
Jasper facilitates in balancing and aligning the physical, mental and emotional bodies.
It is a stone of strength, courage and determination.
Jasper stimulates creativity and imagination, encouraging ideas into action. It can really assist people who need more focus, organization abilities, and motivation. It is also said to be good for protection from radiation.
Size (mm): 22 - 42 mm (width, thickness, shape and color does vary and is not necessarily the same as the crystal shown in the picture).
Weight (g): 11 - 19g
| | | |
| --- | --- | --- |
| Vibrates to number | Astrological Signs | Chakra |
| 6 | Leo | Heart |
Customer Reviews
Nice to touch
Has a nice feel about it.
Frequently Asked Questions( FAQ )
Click here to view Questions and Answers