---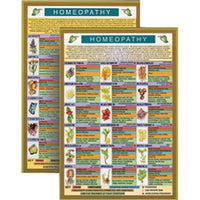 Sale
The Homeopathy Mini chart introduces 36 of the most common homeopathic substances and makes it possible to gain an insight into the ways of homeopathy. The chart is double sided (18 remedies each side) and includes information on the following homoeopathic remedies;
Aconite
Allium
Apis
Arnica
Belladona
Bellis
Bryonia
Cal. Phos
Camphor
Carbo Veg.
Chamomilla
China
Cimicifuga
Colocynthis
Conium
Cuprum Met.
Drosera
Euphrasia

Ferrum Phos.
Gelsemium
Hamamelis
Hepar Sulph.
Hypericum
Ignatia
Ipecac
Kali Bich.
Kali Phos.
Ledum
Lycopodium
Nux Vomica
Pulsatilla
Rhus Tox.
Ruta Brav.
Sepia
Spigelia
Urtica
Each homoeopathic remedy is conveniently presented displaying the following information;
Remedy Origin
Parts Used (e.g., parts of a specific plant)
Condition characteristics
Personality characteristics connected with remedy substance
Typical conditions treated with the remedy
The chart is protected with a plastic coating for durability and long term use.
The Homoeopathy Mini Chart measures 9.25 x 6.25" (235 x 160mm) in size.
Note: The low resolution image shown has been purposely provided to protect copyright content of the chart. The chart you will receive is in an easy to read high resolution format.
Customer Reviews
Good
A good quick reference to have available.
Frequently Asked Questions( FAQ )
Click here to view Questions and Answers