---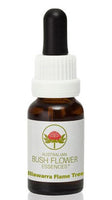 Sale
Illawarra Flame Tree
Negative Condition:



• overwhelming sense of rejection
• fear of responsibility

Positive Outcome:



• confidence
• commitment
• self reliance
• self approval
A remedy for those who suffer from a great sense of rejection, or who feel "left out". This rejection is deeply felt and very agonising for the person. Also the remedy is for self rejection, or where a person is feeling apprehensive about a new experience e.g., parenthood, or where there is a great fear of responsibility. This remedy will help people take that first step. Also, it is beneficial for people whose ruling numbers in numerology are 11, 22 or 33.
Preparation of Dosage Bottles

Place seven (7) drops of Stock Essence into a 15ml to 30ml dropper bottle filled with 1/3 brandy and 2/3 purified water.
Frequently Asked Questions( FAQ )
Click here to view Questions and Answers