---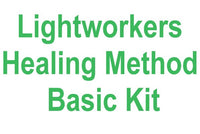 Lightworkers Healing Method Basic Kit
Includes;
 

Core Curriculum

 

  Basic
$69.95

Reading

 

300 Pages of Reading

 
 
 

Auditory

 

5 Hrs 53 Min of Listening

 
 
 

Video

 

9 Hrs 45 Min of Video

 
 
 

8 Hrs 4 Min of Video

 
 
 

7 Hrs 30 Min of Video

 
 
 

7 Hrs 47 Min of Video

 
 
 
Distance Learning Program: One-on-one Mentoring
Self-Paced Distance Learning Tools and Mentorship are the keys to success.
When a student purchases the Advanced Kit, they effectively enroll in the Distance Learning program. By doing so you are paired with a Teaching Assistant and you will receive a 90 minute session of one-on-one supervised practice time (via Skype) for each of the video modules (1-4). This is by far the most effective teaching method, and it will give you everything that you need to really learn the materials. Note that tuition fees for enrolling in this program are non refundable.
Customer Reviews
Happy
Has helped in generating positive changes in myself significantly.
Frequently Asked Questions( FAQ )
Click here to view Questions and Answers