---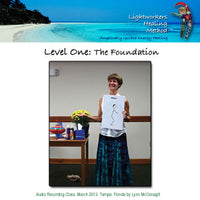 Sale
A Core Curriculum Class
Recorded live, Tampa FL, March, 2013
Total Length: 9 hours, 45 minutes, 49 seconds
All video presented as downloadable .zip files (files can be
unzipped
for easy viewing as .mp4 files on your computer using free software available from
here

).
Lynn McGonagill, Instructor
Expand your connections to the Guides, Lightbeings and Angels, and improve your capacity to channel Divine healing energy. Strengthen your subtle energy awareness and learn to create sacred space for healing sessions and for your life. Through the paradox of simultaneous healing, learn how you can be healed as you learn to heal others. Learn to facilitate energy work so it strengthens rather than drains you.
Learn the five steps that matter most in a healing session, and how to close a healing session so it is Divinely sealed. Finally, practice facilitating foundational healing sessions for others to cement your learning.
This two-day energy healing class includes demonstrations, hands-on practice, step-by-step explanations and walk-throughs, as well as energetic transmissions and movement segments. Experiential as well as informational, it is a wonderfully uplifting weekend.
Please come with intentions for your own growth and healing.
The Level One energy healing class is a prerequisite to all other Lightworkers Healing Method™ classes. This is a progressive curriculum. Classes must be taken in numerical order.
Customer Reviews
Happy
I really enjoyed connecting with myself in this presentation.
Frequently Asked Questions( FAQ )
Click here to view Questions and Answers