---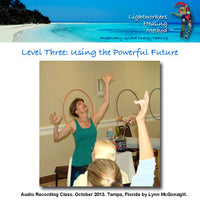 Sale
A Core Curriculum Energy Healing Class
Recorded live, Tampa FL, October, 2013
Total Length: 7 hours, 30 minutes
All video presented as downloadable .zip files (files can be
unzipped
for easy viewing as .mp4 files on your computer using free software available from
here
).
Lynn McGonagill, Instructor
Learn to leverage the wisdom and power of your client's future lives for healing benefit in current life situations. Discover how to improve your client's current life through structural adjustments of the future chakra. This oft-neglected chakra is central in keeping us on our life paths.
Practice techniques for clearing and aligning the life path with the Divine plan, and help a client access and fine-tune the soul contract.
You can learn to do all of this, too.
Again, please come to this energy healing class come with intentions for your own growth and healing.
This is a progressive curriculum. Classes must be taken in numerical order.
View the class videos. Step into JOY. Live your Soul Plan. You can do it. You can! And what's more, by working together, each doing our part, the world transforms. It's true! Onward to the goal: ALL of us living our own individual soul plans, creating lives of JOY in a world that works!
Customer Reviews
A great video
I learnt so much from watching this video
Frequently Asked Questions( FAQ )
Click here to view Questions and Answers