---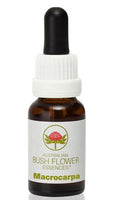 Sale
Macrocarpa
Negative Condition:



• drained
• jaded
• worn out

Positive Outcome:



• enthusiasm
• inner strength
• endurance
A eucalypt that grows in the wheat belt area of South West Western Australia, the stands of which are becoming increasingly rare, very few survive today. Macrocarpa has the largest flower of any eucalypt. Both the tree and flower have a tremendous power about them - and this comes out in it's properties. The remedy has a strong affinity to the adrenal glands; bringing about energy and vitality; it gives great strength.
Preparation of Dosage Bottles

Place seven (7) drops of Stock Essence into a 15ml to 30ml dropper bottle filled with 1/3 brandy and 2/3 purified water.
Customer Reviews
Review
Great product but most of all great and responsive customer service!
Review
great product. High quality. fast shipping. Helped my health.
Review
I purchased individual flower essences to make my own Womens Essence for menopause. It took awhile but hot flashes and night sweats are 90% better.
Frequently Asked Questions( FAQ )
Click here to view Questions and Answers