---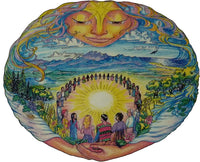 Sale
Beautiful image of the Mother Goddess holding a circle of people holding hands. 4.5" wide oval; Printed on one side.

Gaia from the Ancient Greek Γαῖα; also Gæa or Gea (Koine and Modern Greek Γῆ) is the primal Greek goddess personifying the Earth.

The Greeks honored her as the Oldest of the Old, the Earth Mother, the deep Breasted One, she who gives birth to and creates all of the physical world.
Artwork by Amara Karuna
Customer Reviews
Looks Good
Very happy with this item!
Frequently Asked Questions( FAQ )
Click here to view Questions and Answers