---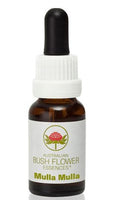 Sale
Mulla Mulla
Negative Condition:



• fear of flames and hot objects
• distress assoicated with exposure to heat and sun

Positive Outcome:



• reduces the effects of fire and the sun
• feeling comfortable with fire and heat
It is for the physical and emotional recovery from the shattering experience of burns. Think of this remedy for severe sunburn cases from either the past or present. It's for those with a fear of fire or flames (often from a past life). If this fear is unconscious it will often manifest in a lack of vitality, as if they wish to fade away. If a person presents with this picture, they can, with appropriate counselling, reveal this fear of fire or hot objects. 

Made up in Palm Valley where some of the oldest plants in Australia are found.
Preparation of Dosage Bottles

Place seven (7) drops of Stock Essence into a 15ml to 30ml dropper bottle filled with 1/3 brandy and 2/3 purified water.
Mulla Mulla Australian Bush Flower Essence Remedy
Customer Reviews
Review
Purchase for night sweats. Seems to really help. I have also noticed I am more tolerant of the heat here in Florida in the boiling summer.
Frequently Asked Questions( FAQ )
Click here to view Questions and Answers