---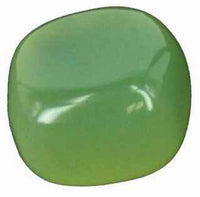 New Jade is said to help correct emotional imbalance and enables you to feel more in control of your life. New Jade is a good stone for crystal meditation and is said to be valuable in opening psychic abilities.

In healing New Jade is believed to have cleansing and detoxifying properties. It is a useful stone for crystal healers as it is said to help in the conscious direction of healing energy to where it is needed.
Size (mm): 18 - 32mm (width, thickness, shape and color does vary and is not necessarily the same as the crystal shown in the picture).
Weight (g): 9 - 19g
| | | |
| --- | --- | --- |
| Vibrates to number | Astrological Signs | Chakra |
| 8 | Pisces | Heart and Navel |
Customer Reviews
Good Quality
Very happy with this gem
Frequently Asked Questions( FAQ )
Click here to view Questions and Answers