---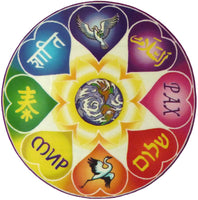 Sale
Words and images for peace, inside a rainbow of hearts, in a beautiful mandala. 4" round; Printed on both sides.

Clockwise from top:
Dove of Peace
Arabic as-Salaam
Latin Pax
Hebrew Shalom
Japanese Peace Crane
Russian Mir
Chinese Huh-Ping
Sanscrit Shanti
Artwork by Amara Karuna
Customer Reviews
Looks Good
Looks really nice!
Frequently Asked Questions( FAQ )
Click here to view Questions and Answers