---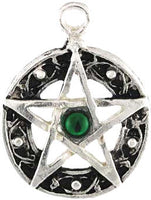 Sale
Wear this symbol to represent integration of the 5 elements; Earth, Water, Fire, Air and Ether.
This 5 pointed pentacle is surrounded by an endless Celtic knot, and is a wonderful tool for;
growth
prosperity
fertility
The Celtic knot work aids in the integration of the five pentacle points representing the 5 basic elements Earth, Water, Fire, Air and Ether. The piece is set with a green Swarovski crystal in the centre, representing healing and balance. The pendant does not come supplied with a chain or cord.
A five-pointed star without the circle is sometimes called a pentagram, rather than a pentacle. The pentacle is often considered more powerful as the circle surrounding the 5 pointed star integrates each point, one with the other.
The Pentacle is a common Pagan symbol, and is commonly worn by Pagans as well as by Wiccans. 
The pentagram is one of the most potent, powerful, and persistent symbols in human history. It has been important to almost every ancient culture, from the Mayans of Latin America, to India, China, and Egypt. It has been found scratched on the walls of Neolithic caves, and in Babylonian drawings, where it marks the pattern the planet Venus makes on its travels; a secret symbol of the Goddess Ishtar. Scriptures, especially Hebrew, are abundant with references to pentagrams. So, why does the pentagram have such a sinister reputation? 
Distinguishing between  Good and Evil
The upright pentacle is interpreted differently to the inverted pentacle, and this has created much confusion in society when distinguishing between good and evil.
A Pagan or Wiccan will often correct people on this point by saying that "Satanists have turned a good symbol upside-down just like they did with the Christian cross". Note that this is not quite correct, as the official symbol of the Church of Satan is actually the Sigil of Baphomet, not the simple inverted pentacle. The sigil consists of an inverted pentacle, with a double circle around the outside and the head of a goat pictured within the 5 points.
Correct Way 

Good - Correct way up of Pentagram

Wrong Way 

Evil - Inverted Pentagram -  resembles a devil with horns
Material
Color
Dimension (in/cm)
Weight (oz/g)
High Grade Pewter
(Lead Free); Swarovski Crystal
Silver-Grey; Green Crystal
1 1/8" Diameter / 2.8cm Diameter
0.2 / 7
Customer Reviews
Good Quality
Very happy with my purchase.
Frequently Asked Questions( FAQ )
Click here to view Questions and Answers