---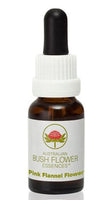 Sale
Pink Flannel Flower
Negative Condition:

Feeling and seeing life to be dull, flat and lack lustre
Unappreciative
Unhappy
Taking for granted
Unmindful

Positive Outcome:

Gratitude
Open hearted
Joie de vivre
Appreciative
Lightness of being
Pink Flannel Flower, a very rare plant belonging to the Apiaceae family, is of the same genus as two other of our Bush Essences, Flannel Flower and Little Flannel Flower. The Pink Flannel Flower is found only in the upper Blue Mountains where it is known to grow in a few isolated locations and even then its' flowering is very spasmodic and unpredictable. It was over forty years since Pink Flannel Flower was last seen flowering, which may explain why some Botanists and local people even doubted its actual existence!

This flower is all about heart energy, which is not surprising when you observe the intensity of its pink centre. It allows one to be in a state of gratitude for all aspects of their life and for what they are experiencing around them. Pink Flannel Flower brings about an appreciation of, and helps one take delight and pleasure in, the details and little things in life; to see and be aware of the blessings in every moment. Otherwise life can easily become dull, flat and one's "joie de vivre" will be missing.

This Essence has great affinity for young babies whilst both in the womb and in those early years of life. Pink Flannel Flower will help keep their heart and heart chakra open with the high, love vibration that they came in with, as they adjust to the density of our third dimensional earthly reality.
Preparation of Dosage Bottles

Place seven (7) drops of Stock Essence into a 15ml to 30ml dropper bottle filled with 1/3 brandy and 2/3 purified water.
Customer Reviews
Review
I purchased individual flower essences to make my own Womens Essence for menopause. It took awhile but hot flashes and night sweats are 90% better. I have also noticed I feel happier and "lighter."
Frequently Asked Questions( FAQ )
Click here to view Questions and Answers