---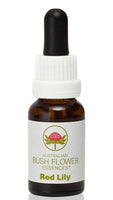 Sale
Red Lily
Negative Condition:



• vague
• disconnected
• split
• lack of focus
• daydreaming

Positive Outcome:



• grounded
• focused
• living in the present
• connection with life and God
Similar properties to that of Sun Dew. For feeling scattered, not whole, vague and split. Red Lilly is for people over the age of 28 whilst Sun Dew is for people under that age.
Preparation of Dosage Bottles

Place seven (7) drops of Stock Essence into a 15ml to 30ml dropper bottle filled with 1/3 brandy and 2/3 purified water.
Customer Reviews
I recommend this product
Well worth the shipping time
I just received Red Lily, and I believe it was worth the wait to ship from AUS to US. I am glad to have this, that I could not find available anywhere else online, and believe it will be beneficial to me.
Happy
Very happy with my purchase.
Frequently Asked Questions( FAQ )
Click here to view Questions and Answers