---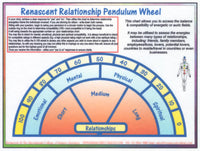 Sale
This chart allows you to access the balance and compatibility of energetic or auric fields.
It may be utilised to assess the energies between many types of relationships, including:
friends
family members
employees/boss
lovers
potential lovers
countries to reside / travel in
businesses 
Card Size: 7 7/8 x 6 1/8" (20 x 15.5 cm)
Customer Reviews
Review
I use my TDS meter to check my reverse osmosis water purification system about once a fortnight. When I see the TDS starting to increase, the system is ready to have the filters changed. Manufacturers of purification systems recommend changing the sediment filter for instance once every 3 months, but where I live and with my TDS meter, I can get about 9 months out of my sediment filter. This has already saved me hundreds of dollars over the past 3 years in purchasing expensive filter elements.
05/13/2016
JC, Las Vegas, U.S.A
Review
The TDS meter works perfectly. There are so many bottled waters on the market it's wonderful to easily test which are the best. Tested Evian, Dasanti, Arrowhead, Fiji and many others including REO and Oxygenated. This meter absolutely gives the true quality reading (many surprises) and cuts through the marketing/labelling pitches.
Frequently Asked Questions( FAQ )
Click here to view Questions and Answers