---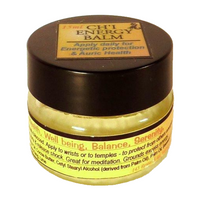 Sale
Renascent Chi Energy Balm 
The ancient Chinese Sages, & Healers, Tibetan Monks and Egyptian Priests used Ch'i (Qi) as part of their everyday lives and realised that without it in harmony, illness would ensue leading to the quality of life being lessened. In modern times life is more demanding and our energetic physiology needs assistance more than ever.
Chi Energy Balm is a product with many useful applications in this never ending fast world in which we live. Have you ever felt that you pick up or collect the bad energies or "vibes" of unpleasant people around you? Perhaps there is a person that you work with that makes your day an unpleasant one, and you bring their bad energies home with you, or you work in a situation where you are dealing with a large number of people, and you feel that you hold or collect bad energies of some. Chi Energy Balm may be the solution for you!
The chi balm is made with a natural cocoa butter base blended with seven different essential oils individually blessed by a chi gong master. Useful for;
Protection against collecting the bad energies of others.
Accelerated healing of sores or small skin injuries which will not heal.
Insect bites which show signs of slow healing.
Burns which seemingly are taking a long time to heal.
Feeling ungrounded, uncentered or low from the negative thoughts of others.
Providing energetic protection from psychic attack.
Have you ever felt your energy being drained or affected by another? Try the Chi balm for energetic protection.
The balm is available in a small jar, and has a delightful fragrance.
Use for exotic perfume, accelerated healing, bites and burns. Not only does the Ch'i Balm smell wonderful as an exotic fragrance it has been reported to offer wonderful protection from others unwanted energies, perfect for shop keepers, practitioners or those around others who seem to "take on other peoples energies".
The Ch'i Energy Balm may be applied by rubbing onto the temples, wrists and pulse points. Try some today!
"Working 1 on 1 with people, I am often influenced by their energies - no longer!! An application of chi balm every morning & I am able to maintain my own energies with ease."
The chi energy balm is ideally rubbed into temples, wrist and pulse points.
Customer Reviews
Review
The Chi Energy balm its absolutely wonderful. I applied it to different temples on my face and I go to go work at the hospital feeling protected from others' energies. I also noted it worked on a lymph node that was inflammed. I give it a 5.
Review
The chi energy balm, besides really being a serenity balm, took care of an annoying mosquito bite serenely after about three minutes. A great stress reducer.
Frequently Asked Questions( FAQ )
Click here to view Questions and Answers