---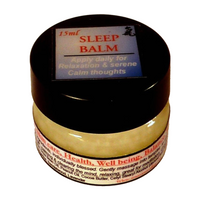 Sale
A tonic balm which will guarantee you a better night's sleep, and will help you disperse the unwanted energies which often keep you active and awake.
Sleep balm is an exotic blend of Natural ingredients which include;
Vitamin E
Chamomile oil
Tangerine oil
Sandalwood oil
Lavender oil
Each of the above ingredients have been individually blessed. The base consists of;
Soya Bean Oil
Peanut Oil
Cocoa Butter
Cetyl Stearyl Alcohol (derived from Palm Oil)
Palm Oil
Beeswax Leatherwood
Some tips which will assist you in falling asleep and overcoming insomnia problems.
Read a dull book
Count backwards from 100
Avoid excitement shortly before bed time.
Get out of bed if you are unable to fall asleep after 20 minutes and massage your neck, legs and biceps.
Avoid caffeine and stimulants before bedtime.
Have a glass of milk before bed.
Apply sleep balm to your temples, and fall asleep to the pleasant smell.
"My little boy goes to sleep peacefully EVERY night now, with a spray of Emergency essence & an annointing of sleep balm - he is much happier!"
Instructions
Gently massage into temples to assist in 'switching off', calming and clearing the mind. The balm is ideal for relaxing, and can be used for improved meditation. Sleep balm is designed to ground any excess energies. Try it. You wont be disappointed!
Be sure to look at the Sleep Partner when considering products to assist you in overcoming insomnia.
Customer Reviews
Happy
Very happy with my purchase.
Frequently Asked Questions( FAQ )
Click here to view Questions and Answers