---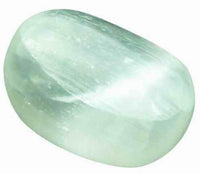 Selenite is a very calming and soothing energy. It's said to be the "Stone of mental clarity", enhancing mental flexibility and strengthening the ability to make good decisions. You can access information from past lives, using the energy of a Selenite wand. It is said to remove energy blocks from the physical and etheric bodies. It helps to connect the physical and etheric or 'light' bodies. It has been used by Healers to align the spine and is thought to be good for the skeleton and spine. Selenite wands can be used to clear other stones that are placed on or near it. Selenite is associated with the crown chakra and is used to decrease epilepsy and seizure disorders. It is also said to promote good business practices and would therefore be excellent for any Healer, massage therapist, Reiki Master, Chiropractor, etc. to have in their office. It's also said to be an aid to help stop smoking.

Another unique thing about selenite is its ability to constantly cleanse and recharge itself. The only other crystal with the known ability to do this is apophyllite.

As with crystals such as quartz, fluorite and calcite, selenite is especially beneficial for activating the seventh or crown chakra. Selenite is also good for stimulating and opening the third eye chakra.

With its unique ability to filter out confusing or ego-based messages in the mind, selenite is an excellent crystal to work with while meditating. Place one nearby while you meditate or hold a piece in your hand to help keep your mind clear, lucid and calm.

Selenite can also help you get in touch with your higher self and expand the awareness of your mind and spirit. For this reason it can be good to use during prayer, communicating with the wisdom of angels and astral projection.
Because of its ability to calm and clear the mind, it can be good to keep selenite with your during times of emotional stress.
Other spiritual and metaphysical properties associated with selenite include:
Psychic awareness and development
Channelling
Awareness of past lives
Improved concentration
An aid for hypnosis
Aura cleansing
Access to one's personal power
Because selenite is a soft crystal it should be handled with care and not stored with other crystals which may scratch its surface. It is also good to keep selenite out of direct sunlight and it should never be washed or placed in water because this can erode or damage its surface.
Size (mm): 19 - 29 mm (width, thickness, shape and color does vary and is not necessarily the same as the crystal shown in the picture).
| | | |
| --- | --- | --- |
| Vibrates to number | Astrological Signs | Chakra |
| 2 or 11 | Taurus | Crown |
Customer Reviews
Good Quality
Was well packaged to ensure not damaged in transit. Very happy with my new crystal.
Frequently Asked Questions( FAQ )
Click here to view Questions and Answers