---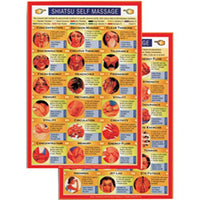 Sale
Learn how to do simple and easy Shiatsu Massage on yourself to relieve tension the easy way with the Shiatsu Self Massage Mini Chart.
Shiatsu is a Japanese system of massage consisting of finger and palm pressure, stretches and other massage techniques applied as acupressure on the body's Meridians or energy pathways in order to relieve tension and promote relaxation.  The word "Shiatsu" in Japanese means "finger pressure".  Shiatsu was founded by Tokujiro Namikoshi. This handy Mini Chart Shiatsu Massage and its therapeutic potential.
This concise and useful Mini Chart shows 9 Essential areas:
1. Examines Shiatsu Massage
2. Provides an overview of shiatsu massage
3. Explains 36 simple and easy to use massage techniques that you can perform on yourself anywhere
4. Illustrates each of the 36 techniques
5. Outlines step by step instructions on how to conduct each technique
6. Features the pressure points for each technique
7. Shows the meridians for each technique
8. Lists the effects or benefits of each technique
9. And more . . .
A very useful tool for anyone who is interested or wants to learn about Shiatsu Self Massage.
Printed and protection coated on both sides.
Size:  16cm x 23.5cm
Note: The low resolution image shown has been purposely provided to protect copyright content of the chart. The chart you will receive is in an easy to read high resolution format.
Customer Reviews
Good Reference
I find that this is a good reference to have on hand.
Frequently Asked Questions( FAQ )
Click here to view Questions and Answers