---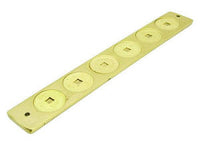 This is a metal ruler with six emperor coins attached to it. The emperor coins bring prosperity, good luck and wealth into the household.
Hang this Six Emperor Gold Coins Ruler in the Northwest sector of your home or office to activate mentor Luck or in the North to enhance career luck based on the Pakua's Eight Life Aspirations.
For Flying Stars enthusiasts, mount it on either side of the the door where the malignant Five Yellow Star flies into. The coins will act as an effective cure against the Five Yellow which instigates fights, accidents and death.
Customer Reviews
Happy
Very happy with my purchase.
Frequently Asked Questions( FAQ )
Click here to view Questions and Answers