---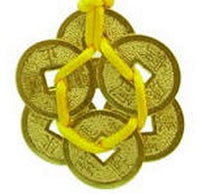 This is a beautiful Six Golden I-ching Coin Talisman tied with yellow thread, accented with a mystic knot.
Place it in the Northwest to increase networking luck, money luck and opportunities from helpful people in your business pursuits or career. You will have easier access to people who can help you. The Northwest is the universal sector for Mentor Luck based on the Pakua 8 Life Aspirations Theory, its element is Metal and its number is 6. Activating this sector with 6 metals coins is said to be extremely powerful and it will allow your path to intersect with exceptional people and influential friends. It especially benefits the partriach of the family.
The 6 Coins amulet can be attached to account books, invoice books, share portfolios, computers or telephones to enhance income and sales.
Always display them with the Yang side facing up. The Yang side has four Chinese characters whereas the Yin side has two.
Customer Reviews
Happy
Very happy with my purchase.
Frequently Asked Questions( FAQ )
Click here to view Questions and Answers