---

With the release of smart watch technology, we are now faced with a new wave of noxious WiFi radiation geopathic stress. Wear one of these watches and you may find yourself affected as the smart watch sits directly on top of 3 acupuncture meridians, and transfers untreated energies directly into the bodily organs stressing them, resulting in the wearer feeling nauseousness and an unwell. We all love these forms of technology such as the smart watch so luckily there is a solution at hand to make them safe to wear!
The Watch Harmonizer is designed to neutralize the noxious positive charge and radiation field which may place resonant stress on organs created by all watches, wireless trackers. Smart watches. Ensure that you attach the green sticker to the back of your watch and protect yourself from the dangers of smart watches.
The permanent negative charge resonance of the Watch and Personal Tracker Harmonizer when attached to the back of a watch, may balance the potentially harmful positive charge resonance of the metal backing and the electromagnetic radiation emitted from all small electronic devices such as: –
Smart Watches
Sports Watches
Activity Trackers
Wireless Sport Headphones
GPS Units
Bluetooth Ear Pieces
PC Mouse
Hearing Aids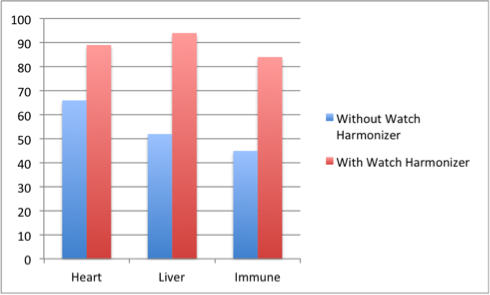 The above chart shows the result of surveys taken of the heart, liver and immune meridians without a Watch and Personal Tracker Harmonizer, and with the Watch and Personal Tracker Harmonizer.
The sticker measures 15mm in diameter.
Directions
Simply peel the Watch Harmonizer From the backing and stick onto the back of the watch.
Suitable For all watches, digital and mechanical. Smart Watches which emit EMF and Radio Frequency Wireless Trackers also suitable for ... Mobile Phones MP3 Players Tablets DECT Phones
Customer Reviews
Review
After putting the harmonizer on my husband's fit bit, the energy of the fit bit changed dramatically. Without it, the fit bit drained my body when holding it or having it near me. After putting the harmonizer on the fit bit, there is no more energy drain. It works great to neutralize the electromagnetic fields.
Frequently Asked Questions( FAQ )
Click here to view Questions and Answers