---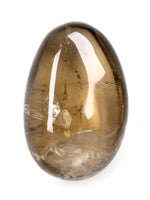 Smoky Quartz is one of the premier grounding and stabilizing stones with an incredible ability to transform low-density, negative energies into lighter, positive energies. Smoky Quartz activates the Root Chakra, enabling one to connect to the Earth's energy field where one's negative energies can be grounded and dissipated. Without proper grounding channels, one may experience increased levels of poor judgment, impracticality, and uncontrollable bouts of irritation, rage, and frustration. Smoky Quartz provides a safe outlet to help recycle negative energies into the Earth so they may become healthy and usable once again. As the mind chatters and anxieties are eroded away by the influence of Smoky Quartz, one finds clarity and organization in life. Smoky Quartz's brown color is generally caused by natural radiation during its formation. Since it is already resonant with the frequencies of radiation, it can be effectively used to safeguard against electromagnetic emanations from computers, cell phones, and other electronic devices. Smoky Quartz cleanses one's aura and induces feelings of calm and serenity. Physically, Smoky Quartz facilitates removal of toxins from the body, regulates bodily fluids, and aids assimilation of minerals. Smoky Quartz can also alleviate cramps, headaches, and back pains by placing it directly over the affected area. Since Smoky Quartz has such tremendous grounding capabilities, it should be cleansed under running water regularly to ensure continued effectiveness, especially prior to and after healing sessions.
Size (mm): 20 - 35 mm (width, thickness, shape and color does vary and is not necessarily the same as the crystal shown in the picture).
Weight (g): 8 - 23g
| | | |
| --- | --- | --- |
| Vibrates to number | Astrological Signs | Chakra |
| 2 and 4 | Capricorn and Sagittarius | Base and Sacral |
Customer Reviews
Good
Such a nice vibe from this gem.
Frequently Asked Questions( FAQ )
Click here to view Questions and Answers