---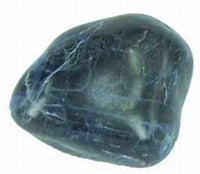 It is told that sodalite will harmonize the inner being or the conscious with the subconscious mind.

It is most helpful for work in groups and stimulates thought. It is a stone wonderfully beneficial for healing breaches in communication. A stone of truth, it brings this to all communications. It can help end arguments or other disagreements that have to do with communication or when communication has become an issue. It is particularly useful for honesty of emotions. It increases intelligence, knowledge and learning and will unite the logical with the spiritual.

Sodalite is an excellent stone for reducing high blood pressure if carried constantly on the person. Necklaces of sodalite beads that hang down to the heart area will increase its hypertensive properties.
It also is associated with the thyroid, it has a calming regularity effect on the thyroid gland, the vegetative nervous system and all glandular functions. By balancing the endocrine system, it strengthens the metabolism. Reduces stress and helps to prolong physical endurance.

In order to properly benefit from this stone's energy it must be worn or carried as a touchstone over a long period of time. It should be discharged under running water on a weekly basis, or whenever the stone becomes cloudy or changes color. Then it should be charged again in a bowl of water together with a rock crystal.

Sodalite is excellent for psychic development and meditation, particularly if used with lapis or other clear quartz crystal. While other stones may blast open the inner doorway to the psychic, this stone gently eases it open. This allows us acceptance of and working with the new and different abilities much easier than if they had come too suddenly.

Worn in jewelry, sodalite forms a quite reliable connection with your intuition, thus giving a gentle flow of information that can save lots of time and trouble.
Size (mm): 19 - 33 mm (width, thickness, shape and color does vary and is not necessarily the same as the crystal shown in the picture).
Weight (g): 3 - 12g
| | | |
| --- | --- | --- |
| Vibrates to number | Astrological Signs | Chakra |
| 8 | Sagittarius | Throat and Third Eye |
Customer Reviews
Good Quality
Very happy with my purchase.
Frequently Asked Questions( FAQ )
Click here to view Questions and Answers