---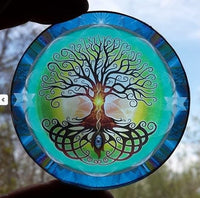 This disc has an abundance of healing properties, depending on the needs of the user. The universal property is it's ability to help to ground you. The energy of the disc rests solely inside the disc. You tap into that energy by touching the disc or laying the disc on your body. You will feel the grounding energy flowing from the disc into you. This is not a prime disc for manifestation. This is a great disc to keep with you during times of significant change, emotional turmoil, and other events that leave you sort of "flying in the wind". This disc will touch your core, center you, and ground you again. It can be used multiple times a day for the purpose of grounding you. The more you use the disc, the stronger it becomes, the more connected to you the disc is. The design for this disc was created by Ralf Schuetz of Urban Allyance.
Size: 3 inch diameter.
Customer Reviews
Love it
I love my new spiritual energy disc. You can really feel it!
Frequently Asked Questions( FAQ )
Click here to view Questions and Answers