---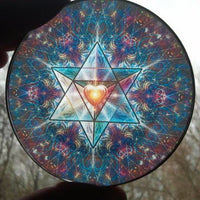 This disc contains the following healing properties: heart trauma, both emotional and physical, connectedness with the divine source, manifestation, and spiritual grounding. Design created by Lily A. Seidel.
Size: 3 inch diameter.
Customer Reviews
Good Quality
I love my new spiritual energy disc - not only does it look good but you can feel the positive energy coming from it.
Frequently Asked Questions( FAQ )
Click here to view Questions and Answers