---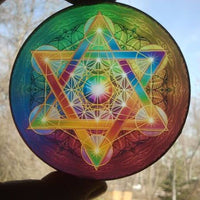 Metatron's cube contains every shape that exists in the universe God has created, and those shapes are the building blocks of all physical matter, which are known as Platonic solids. Those three-dimensional shapes appear throughout creation, in all everything from crystals to human DNA. This is a great disc for manifestation. Design created by Lily A. Seidel.
Size: 3 inch diameter.
Customer Reviews
Looks Good
Looks great in real life.
Frequently Asked Questions( FAQ )
Click here to view Questions and Answers