---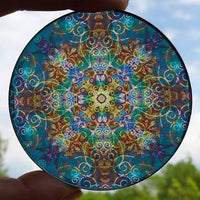 As is evident in the picture, this disc is both complex and intricate. If you are a first-time disc user I suggest that you choose one of our other discs that are a bit less complex. This disc is perfect for a happy person that wants to feel happier. For a joyful person that wants to feel a deeper level of joy. This disc takes your current high vibration emotions and makes them even higher. It's a very powerful disc. You will immediately feel the energy. As you are feeling its energy, it is feeling your energy. This will create a connection that will not be broken. Each time you use this disc it will become more and more powerful. This is a great disc to gently place on your body while you are meditating, or even while napping. After a few uses you will be able to pick up the disc, hold it and get an immediate energy boost. If you're happy – you'll feel happier, and so forth. This disc should not be used to combat negative emotions. Design created by Lily A. Seidel.
Size: 3 inch diameter.
Customer Reviews
Happy
I love my new spiritual energy disc - not only does it look good but you can feel the positive energy coming from it.
Frequently Asked Questions( FAQ )
Click here to view Questions and Answers