---
Stop Snoring Easily Using Painless Electro acupuncture While You Sleep .....
The Stop Snoring Wrist Band is a revolutionary device designed to reduce snoring through a patent nerve stimulation process. It features a specially designed biosensor with logic-control IC. When the Stop Snoring Wrist Band detects snoring, a gentle 4-second electrical pulse is sent to stimulate nerves on the snorer's skin. The brain senses this nerve stimulation, and prompts the snorer to change the sleeping posture, thereby reducing snoring without waking the snorer.
Snoring

Snoring occurs when the muscles of the throat, tongue and soft palate relax during deep sleep. The tissue sags, narrowing the air passage and causing one to inhale more forcefully. This in turn causes the tissue at the back of the throat to vibrate. There are a number of contributing factors, including smoking, obesity, alcohol consumption, or physical characteristics like a narrow airway or an elongated soft palate. In some cases, finding a way to quit snoring will require a specific diagnosis of the cause.

Seeking a simple and effective solution to snoring has been a major concern for the 90 million American sufferers and their loved ones. Snoring has become an everyday occurrence, much more common than many care to admit. For many of those who struggle with snoring problems, finding an effective snoring product can prove to be extremely challenging. For many who snore, constantly being the butt of jokes can be humiliating. For their partners, continual interruptions during the night can have a dramatically affect their mood, job performance and general outlook on life. In serious cases, health problems that are related to interrupted breathing patterns associated with severe snoring may arise. One such disorder is Obstructed Sleep Apnoea (OSA), which is when a person stops breathing because the soft tissue in the rear of the throat collapses and closes during sleep.

The Facts

Statistics from the National Sleep Foundation about snoring and sleep apnea say 90 million Americans are affected by snoring. A study by the National Sleep Foundation found that about 24 percent of couples sleep in separate rooms and many couples who sleep separately are reluctant to discuss it. The National Sleep Foundation found that more than a third of respondents admit that their partner's disruptive sleep habits have affected the quality of their relationship. 17-23% (two in five) indicated that their intimate/sexual relationships had been affected because they were too sleepy. 51-62% agreed that not getting enough sleep impacts their relationships with family or friends.

A third of Americans have indicated that their partner's disruptive sleep habits have affected the quality of their relationship
A 1993 National Commission on Sleep Report revealed that chronic sleep disorders affect 60 percent of Americans. The result: "Sleepy individuals are less ambitious and less productive. Sleep loss impairs performance and decision making." Numerous studies have shown that REM sleep is necessary to recharge our mental functions, and non-REM sleep is necessary to repair our physical functions. While the current national average requirement is 7 hours, "short sleepers" (6% of the population) require less than six hours to feel fully rested, and "long sleepers" (4% of the population) require nine hours or more. Sleep medicine specialists suggest that you're getting adequate sleep if about 85% of your total time in bed is spent asleep. Snoring can prevent you and those sleeping with you from getting the vital deep and REM sleep.
Is snoring keeping you up all hours of the night, making it impossible for you and your partner to get a relaxing full night of sleep?
The experts tell us that 20 percent of us snore. That's 1 in 4 men and 1 in 6 women. But short of throwing your sleeping partner out the window, is there anything that really stops snoring?
Available Methods for Treating Snoring
There are a number of options that we have at our disposal which include;
surgery (expensive and risky)
injections into the soft palate (painful and normally used for sleep apnoea)
nasal clips (uncomfortable)
pseudoephedrine and domperidone drug combinations (taxing on the body, especially the liver)
mandibular advancement splints sold by dentists (expensive)
Electroacupuncture (effective in most cases, cheap, painless, instant). This is the methos used by the Stop Snoring Wrist Band. Simply wear it like a watch, switch it on and then go to sleep - as easy as that!
The Stop Snoring Wrist Band has proven itself to be effective as a natural therapeutic device, and as a low cost solution in tackling the problem of snoring. Note: you must always consult your doctor when addressing all medical matters. Snoring may be a symptom of a more serious underlying medical issue such as sleep apnoea and may require orthodox medical treatment.
How the Stop Snoring Wrist Band Works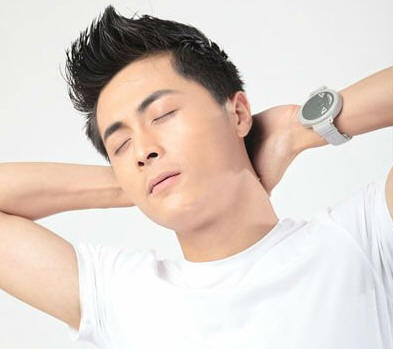 The stop snoring wrist band is fitted with a US military solid state chipset that is designed to work in conjunction with Eastern medicine electro acupuncture. A small microphone in the unit deciphers audible snoring sounds, and when these exceed 70dB in volume, and there have been 3 snores in succession, the unit activates. An electronic pulse is released on the back side of the unit, through to several specific acupuncture meridians. This stimulates the motor nerves, which in turn causes the user to adjust sleeping position without waking. This mechanism thereby tightens the throat muscles and achieves the purpose of anti-snoring and a good nights sleep for both you and your partner.
Instructions
An instruction manual is included with the Snore Stpper wrist band, but it is in a fine print. We have therefore scanned the manual to make it easier to read. Please click on each of the links below to view the Snore Stopper operating guide;
Warnings and Contraindications

Keep out of reach of infants and intellectually disabled.
Not to be used with other electronic medical devices simultaneously.
Not to be used by persons with heart disease or patients with heart pacemaker.
Not to be used by persons with epilepsy.
Not to be used by pregnant women or people insensitive to electricity.
Persons with organ illness must use it under the guidance of a doctor (e.g., nasal polyp, nasal cancer, hypertrophy of nasal turbinates, hypertrophy of tonsil etc).
In some people, injury from heat conduction where the electrodes contact the skin may be observed.
The device will become unstable when used with short-wave or microwave medical equipment.
When adjusting for increased output, the density of electric current will increase. Please take care to prevent injury if you are sensitive.
The background environment should never be more than 55dB for best results.
The device is not waterproof.

 

Material, Color, Dimensions and Weight

Material
Color
Box Dimension (in/cm)
Box Weight (oz/g)
Electric conduction rubber ,
American imported wafer,
wriststrap,
DC3V battery (CR2032)
Grey
7.3x7x1.7 / 18.5x17.7x4.3
4.6 / 130

Technical Data

Medical device production certification No. SFDA 2005 22260056
SFDA:YZB/X0008-2005
Medical device factory certification : SFDA (2005) 0169
Name: Huamai wrist worn electronic snore stopper
Model: CW-0326
Indications: persons who snore
Output voltage: ≤30V
Power: ≤0.1W
Impulse wave: ≤50Hz
Impulse Widenth:50US±30%
Impulse electric quantity 7UC
Impulse energy : ≤300mJ
Output wave type: square wave
Working time limit: 8 hours
Impulse Intensity: adjustable
Memory function: can memorize the last impulse intensity
Using voltage: DC3V
Battery : normal CR2032
Lasts on average 2 weeks
Electrode size: 26×13mm×2pcs
Storage: keep at room temperature; relative humidity≤80%
Place of origin: China
Color: silver gray
Customer Reviews
Good
Works very well - glad I purchased this. I sleep so much better (and so does my wife now)!
Frequently Asked Questions( FAQ )
Click here to view Questions and Answers