---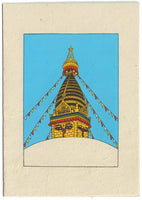 Sale
Stupa (Swoyambhu) Gift Card
Hand made organic paper gift card with envelope.
Swoyambhu is a soul of every living being in the form of self originated light.
Hand Made in Nepal
Customer Reviews
Review
Nice paper and quality. I sent the 8 A. Symbols one for Buddha Day and the my daughter loved it. Since I was mailing I had to use scotch tape to seal the envelope as mine had no gum sealant on flap. I am displaying the stupa card on my alter and love. Mission aligns so makes the gift the card even sweeter.
Frequently Asked Questions( FAQ )
Click here to view Questions and Answers