---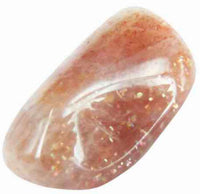 Sunstone was associated with the Sun during the Renaissance because of its sparkling orange-gold hue. It was used by magicians to call upon the influences of the sun. It is a protective stone.

Placed before a white candle, sunstone will spread protective energies throughout your home.

Sunstone has a very positive effect on one's psyche, it promotes good humour, cheerfulness and an even temper. It may provide the necessary stamina and energy to undertake projects and tasks that one may find daunting.

It offers self confidence and helps its wearer to discover her own nature and live accordingly. It assists its wearer in maintaining a positive attitude towards her own life and to use inherent strengths while still allowing the sunny side of the personality raise to the forefront.

Keep Sunstone with you at all times if you have difficulty saying "no" to people, and you continually make sacrifices for others. Sunstone will detach your feelings of being discriminated against, disadvantaged or abandoned; it will remove inhibitions and hang up, reversing feelings of failure. It will increase feelings of self-worth, and confidence encouraging optimism and enthusiasm. It will switch all feelings to a positive take on any event. Even the most incorrigible pessimist will respond to Sunstone.

Sunstone enables and enhances it's wearer with self healing powers. It stimulates the vegetative, autonomic nervous system and enhances the harmonious functioning of all the body's organs. It is quite helpful in cases of exhaustion due to lack of sleep.
It will treat chronic sore throats and relieves the pain of stomach ulcers. It is quite successful on Seasonal Affective Disorder (or SAD), it is also known to relieve cartilage problems, rheumatism and general aches and pains.
Sunstone will lift depression and free it's wearer from feelings of discrimination and failure as well as images of an 'evil world'. Sunstone easily increases a sense of self-esteem as well as self-worth.
Sunstone is particularly beneficial when used in the sun, sunshine, or sunlight.
Sunstone and Moonstone together are often used in Solstice rituals, either on the altar of by having the priest wear sunstone and the priestess wearing moonstone, thus representing the balance of power between the physical, psychic and spiritual attributes.
Sunstone also helps to find and keep a beneficial sexual relationship, it is a protective and powerful stone. This gemstone adds energy to other stones as well as to rituals and spell workings. Symbolically Sunstone is linked to Moonstone.
Size (mm): 22 - 30mm (width, thickness, shape and color does vary and is not necessarily the same as the crystal shown in the picture).
Weight (g): 10 - 23g
| | | |
| --- | --- | --- |
| Vibrates to number | Astrological Signs | Chakra |
| 1 | Leo | Navel |
Customer Reviews
Happy
Very happy with my purchase.
Frequently Asked Questions( FAQ )
Click here to view Questions and Answers