---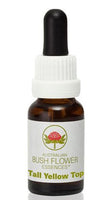 Sale
Tall Yellow Top
Negative Condition:



• alienation
• loneliness
• isolation



Positive Outcome:



• sense of belonging
• acceptance of self and others
• knowing that you are 'home'
• ability to reach out
This remedy is for alienation. There is no connection or sense of belonging to anything...family, workplace, country, self etc. The head has taken over from the heart and soul. As many of these people have been in this state for a long time Tall Yellow Top will often need to be used for longer periods, sometimes up to 6-8 weeks without a break.

Be patient with the results of this remedy if sometimes it appears a little slow acting. Remember that some of these people HAVE been in this state for a long time. More than this lifetime?
Preparation of Dosage Bottles

Place seven (7) drops of Stock Essence into a 15ml to 30ml dropper bottle filled with 1/3 brandy and 2/3 purified water.
Customer Reviews
Good
A good flower essence remedy.
Frequently Asked Questions( FAQ )
Click here to view Questions and Answers