---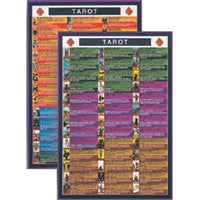 Sale
Reading Tarot cards is one way of the many ways of divining or gaining insight into a question or situation. Tarot cards have been used for centuries, dating back to the late 14th century, but some suggest their symbology originates from ancient Egyptian times.
Learning the meaning of each of the tarot cards can take some time studying books and attending various courses, but even if one has attended such studies, with time you may eventually forget the meaning of each individual card. The tarot reference chart is very useful to have on hand when reading the cards, with a brief meaning of each of the 78 cards being given from the positive (card upright) and negative (card reversed) aspects. Following is an example for the Ace of Wands;

Note that the chart is double sided with 39 cards being presented on each side.
The chart is richly illustrated and is protection coated on both sides. The chart measures 9.25 x 6.25" (235 x 160mm) in size.
Note: The low resolution image shown has been purposely provided to protect copyright content of the chart. The chart you will receive is in an easy to read high resolution format.
Customer Reviews
Review
Q. Do you have the chart available in Spanish? A. No unfortunately not - it is only available in English.
Frequently Asked Questions( FAQ )
Click here to view Questions and Answers