---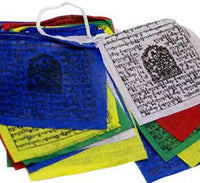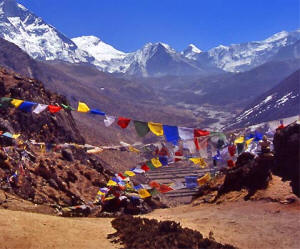 Prayer flags are woodblock printed colorful pieces of rectangular cloth consisting of texts and images that make up prayers and mantras to bless the surrounding countryside. Prayer flags can be hung across the front of buildings, around trees, from post to post or from corners of buildings to the ground. Prayer flags can also be hung indoors to add to the spiritual ambience.
Prayer flags have been used for centuries by Tibetans and are typically found in the Himalayan peaks and along pathways leading throughout the valleys. Their origin predates Buddhism and is thought to originated with Bön, the oldest still-extant spiritual tradition of Tibet.
Traditionally prayer flags come in five different colors, each color representing each of the 5 elements. The colors and the elements that they represent are as follows;
| | |
| --- | --- |
| Blue | Space |
| White | Wind |
| Red | Fire |
| Green | Water |
| Yellow | Earth |
Prayer flags are used by the Tibetans to promote peace, compassion, strength, and wisdom. The flags do not carry prayers to gods as such, a common misconception; rather, the Tibetans believe the prayers and mantras will be blown by the wind to spread the good will and compassion into all pervading space. Therefore, prayer flags are thought to bring benefit to all.
By hanging flags in high places the "Wind Horse" represented by the central flag will carry the blessings depicted on the flags to all beings. As wind passes over the surface of the flags which are sensitive to the slightest movement of the wind, the air is purified and sanctified by the Mantras.
The prayers of a flag become a permanent part of the universe as the images fade from exposure to the elements. Just as life moves on and is replaced by new life, Tibetans renew their hopes for the world by continually mounting new flags alongside the old. This act symbolizes a welcoming of life changes and an acknowledgment that all beings are part of a greater ongoing cycle.
Natures Energies stocks 2 types of prayer flags representing love and peace. Each set has the same print but a different quantity of flags, 10 and 25.
Material
Color
Dimension
Weight (oz/g)
Cloth
Red, Blue, Green, Yellow and White

10 Flags: Each flag approx. 100mm x 100mm. Entire length when extended: 1.05 metres
25 Flags: Each flag approx. 100mm x 100mm. Entire length when extended: 2.55 metres

10 Flags: 0.5 / 15
25 Flags: 0.9 / 26
Customer Reviews
Looks Good
Very happy with my purchase.
Frequently Asked Questions( FAQ )
Click here to view Questions and Answers