---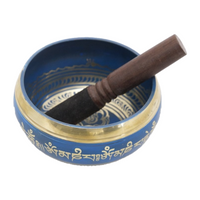 Sale
According to Tibetan traditions, singing bowls are ancient bells dating back at around 560-480 BC. These instruments were known during the time of Buddha Shakyamuni.
Singing bowls are also known as Tibetan singing bowls, Himalayan bowls or suzu gongs. These bowls are classified as standing bells, because instead of being hung inversely or attached to handles, these bells are designed to sit on its bottom.
Early History
Singing bowls were traditionally used to signal the start and end of meditation. In other countries such as China, Japan and Vietnam, singing bowls were used during chanting. In addition, these bells were also used in funerals and ancestor worship in Japan.
The texts and references for these singing bowls aren't as plenty as compared to other ancient ritual instruments known today. However, some pieces of art that date back to centuries ago have proven the early existence of these bells.
Singing Bowl for Healing and Meditation
Singing bowls have long been used in traditional medicine in the purpose of healing and promoting meditation.
In order to produce a sound, the rims of the bells are struck with a padded mallet. Another way to generate sound is to create friction by rubbing rubber, wood or leather-padded mallet in the rim.
The sound generated by the singing bowls is believed to be an energy medicine. It is thought to aid in common psychological and emotional problems such as pain, depression, and stress disorders.
The healing process begins when the sound resonated by the singing bowls enter the brain and is allowed to harmonize with the brainwaves. The unique sound created by the bells establishes a state optimum for deep relaxation, meditation and creative thinking.
It is also believed that the sound produced by the singing bowls do not only result to physical healing but also offers emotional and spiritual therapy to a person.

It is also believed that with the aid of the sound of the singing bowl, a person achieves spiritual enlightenment and, when paralleled with the physical healing achieved by the body; the person could attain deep, nourishing effects to his overall well-being; including his mental, spiritual, emotional and physical aspects. It could also offer him profound regenerative benefits for illnesses and pain.
Tibetan Singing Bowl Technique
Singing Bowls in Chakra Management
Singing bowls are also used traditionally to manage a person's chakra. Chakras are the nodes that connect the spiritual and physical aspects of a persons overall being.
In most healing systems, an illness is thought to be a result of a blocked, unbalanced or dysfunctional chakras. During these circumstances, chakra balancing is necessary.
The sound from the singing bowls is believed to effectively allow chakras to self-correct or to balance. The sound waves entering the body run corrective frequencies that aid in clearing any blockages and/or in balancing the chakra flow, allowing the person to regenerate from illnesses and dysfunctions.
Singing bowls do not only create corrective frequencies to the body for cure of illnesses. It also helps in the prevention of any would-be diseases that have started to take form within the system. It also helps cleanse toxins that can cause diseases.
| | | | |
| --- | --- | --- | --- |
| Material | Color | Dimension (in/cm) | Weight (oz/g) |
| Brass | Blue | Diameter: 5 / 12.5 | 24.2 / 687 |
Customer Reviews
Good Quality
The bowl not only looks nice but is of a good quality.
Frequently Asked Questions( FAQ )
Click here to view Questions and Answers