---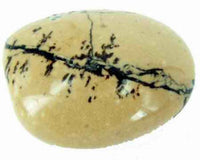 Ivory Stone also known as Jasper Stone is beneficial for;
electromagnetic and environmental pollution
radiation
stress
prolonging sexual pleasure
prolonged illness or hospitalization
circulation
digestive and sexual organs
balancing mineral content of the body
Known as the "Supreme Nurturer," ivory stone sustains and supports during times of stress and unifies all aspects of life. It brings tranquillity and wholeness, absorbing negative energy and cleansing and aligning the chakras and auras. It also balances yin and yang and aligns the physical, emotional, and mental bodies with the etheric realm. With the newfound wholeness, the stone helps to facilitate shamanic journeys and dream recall. It clears electromagnetic and environmental pollution, including radiation, and aids dowsing.

Ivory stone grounds energies and the body. It imparts determination to all pursuits and supports during necessary conflict, bringing the courage to get to grips with problems assertively. It encourages honesty with oneself and others.

This stone aids quick thinking and promotes organizational abilities and seeing projects through. It stimulates imagination and manifestation, transforming ideas into action.
Size (mm): 23 - 32mm (width, thickness, shape and color does vary and is not necessarily the same as the crystal shown in the picture).
Weight (g): 7 - 18g
| | | |
| --- | --- | --- |
| Vibrates to number | Astrological Signs | Chakra |
| 6 | Leo | Earth, base, sacral, solar plexus, third eye |
Customer Reviews
Review
I enjoy my stones that I receive from Nature Energies.
Frequently Asked Questions( FAQ )
Click here to view Questions and Answers