---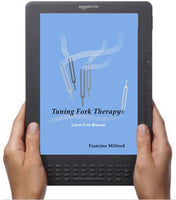 Tuning Fork Therapy® Level Five eBook
Tuning Fork Therapy® Level Five brings you new and exciting, never-seen-before, methods and techniques on using tuning forks on the face, skin, and auric layers of the body. Enjoy a vibrational facial massage. Also discover how you can add the Infinity Symbol to your current practice. The Otto tuning fork is highlighted in this level of training.
Covers the following topics;
The major auric layers of the human body.
How to use which Tuning Forks on which layer of the aura
All about the Otto tuning forks
How to use the Otto tuning forks on the skin of the body - New never before seen methods!
How to use Otto tuning forks to rejuvenate the face
Methods and techniques to give a great facial using the Otto tuning fork
Great ideas on how to use the Otto tuning fork in your next massage session to increase circulation and break up stagnation and blockages.
| | | | | |
| --- | --- | --- | --- | --- |
| Format | File Size | Pages | Printable? | Copyright |
| Comes as a .pdf file. Any software such as Adobe Acrobat Reader can be used to read the file. | 18.09 Mb | 164 | Yes | Francine Milford (Standard Copyright License) |
After your order has been authorized and approved, your eBook will be emailed to you
Customer Reviews
Happy
This book is very well written.
Frequently Asked Questions( FAQ )
Click here to view Questions and Answers