---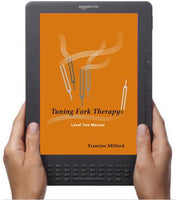 Tuning Fork Therapy® Level Two eBook
Discover the points of the hands and feet that correspond to the organs of the body. Use your tuning forks to help activate and balance the organs, and the organ systems. Learn how you can incorporate Zone Therapy into your healing practice.
Covers the following topics;
Kinesiology
Muscle Testing Techniques
Intro to Reflexology
Referral points of the body
Learn the Body Relation Guide Lines to locate points
Using Tuning Forks on the reflex points of the body
Reflex points on the hands and feet
Zone Therapy
Using tuning forks on the zones of the body
Working with the OM tuning fork
| | | | | |
| --- | --- | --- | --- | --- |
| Format | File Size | Pages | Printable? | Copyright |
| Comes as a .pdf file. Any software such as Adobe Acrobat Reader can be used to read the file. | 9.68 Mb | 144 | Yes | Francine Milford (Standard Copyright License) |
After your order has been authorized and approved, your eBook will be emailed to you
Customer Reviews
Good Instruction
I found the book to be very informative with a lot of attention to detail.
Frequently Asked Questions( FAQ )
Click here to view Questions and Answers