---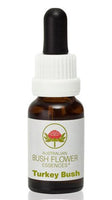 Sale
Turkey Bush
Negative Condition:



• creative block
• disbelief in own creative ability

Positive Outcome:



• inspired creativity
• creative expression
• focus
• renews artistic confidence
This essence was made up in the Katherine Gorge, at the top end of Australia. It's appropriate that it was made here for the essence is for creativity and here can be found the worlds oldest known art work, being Aboriginal rock paintings up to 25,000 years old. It's for both beginner and artist. For the latter, Turkey Bush allows them to tune into the higher self, channel into creativity and to help through periods of creative block. Turkey Bush aids the person to clear the emotional blocks and/or discouragements which hold them back from wanting or attempting to express their creativity, thereby giving them the chance either to go forward or stay where they are. 
Preparation of Dosage Bottles

Place seven (7) drops of Stock Essence into a 15ml to 30ml dropper bottle filled with 1/3 brandy and 2/3 purified water.
Frequently Asked Questions( FAQ )
Click here to view Questions and Answers