---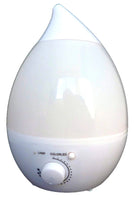 Through the use of this unique device, you too can now simulate the conditions of the European salt caves in the comfort of your own home.
Easy to Use - just plug in
100% natural and completely safe
The Salt Air Pod is an ultrasonic particle dispenser that uses ultrasonic frequency vibration to transform saline solution into 1-5 micron salt particles. These micro particles are a salt mist that are dispersed into the air.
Good for your pets too!
Natural unprocessed Himalayan Salt is great for pets with arthritis and for their general health and well-being.
Includes
Optional colored LED function for changing color light show.
Adjustable Mist Control
Electrical adaptor plug to make the power plug adaptable to

all countries worldwide

.
Instruction manual
You can source locally Himalayan rock salt (which is mercury free), or you can purchase a spare supply from our store (available in 600g packets).
How to Use
The salt pod is typically used in your bedroom overnight while you sleep for a 7-8 hour exposure.
The Ultrasonic Salt Air Pod is safe for people in all different age groups. The Ultrasonic Salt Air Pod functions relatively quietly so will not disturb your sleep. Frequent use of Salt Air Pod is recommended to achieve best results
The device is essentially a humidifier which can be used with salt water, and is placing an insignificant amount of humidity into your room. This means no mould or dampness will result from running the unit. For the purposes of using this as a salt pod, we recommend that you run it with the dial set to half way (somewhere between 6pm and 7.30pm on a clock dial). With time, you will get to work out the best setting for you which could be less than these settings.
Warning: Unit must not be filled while plugged in with power turned on. After filling, wipe unit down to ensure there is no water on the exterior of the unit. Keep out of reach of children when operating.
Instructions
Use the following steps to set your unit up ready for operating.
Preparing for first time use

Remove the top section and then take out the foam protector to ready your unit for use.

1. Add TWO teaspoons of pink himilayan salt to a jug, and mix with water until the salt is fully dissolved. Pink Himalayan Salt is the recommended form of salt, and can be purchased from most grocery stores. It does not contain mercury like normal sea or table salt.

2. Place the water tank back onto the bottom section.

3. Pour the salt solution you have prepared in step 1 into the water tank.

4. Fill the remaining section of the tank with tap water (don't fill past the MAX marker)

5. Place the cap on the tank and then plug the unit in.

6. Turn the dial clockwise to switch it on. A salt enriched mist is produced.

The unit will switch itself off once the water has run out, ready to be refilled.
Specifications
| | |
| --- | --- |
| Dimension (cm) | Weight (g) |
|  24 x 20 x 19 (in packaging box); Actual unit measures 19cm diameter and 28cm high | 890 |
Power: 25W
Voltage/Frequency: 100 - 240V / 50-60Hz (Note: the units are marked on the bottom as 240V. However they are suitable for any 100 - 240V electrical feed, making them suitable for any country including USA and Canada. An electrical adaptor plug is supplied with the unit to make the electrical plug connect to the power outlet in your home for any country worldwide.
Product Capacity: 2.4L
Noise: <35dB (A)
Warning: This product does not replace the advice or medication given by your doctor. Always use it under medical supervision.
Customer Reviews
I recommend this product
Short term. It stop producing mist
It was good while it lasted. Lasted maybe two months tops. It stop producing mist. Modified things on my end and still problem exist. I've reached out and still no response.
Review
I like this machine, it is quiet and works very well. This company does not seem to sell refills of the correct kind of "medicinal" Pharmaceutical Salt salt to use in this machine when you run out as it DOES come with SOME Pharmaceutical Salt, but not a lot. Supposedly it is a special kind of Pharmaceutical Salt and using other salts in this machine can damage the equipment and your health (so I've been told). I still have not received an answer on what exactly is in the Pharmaceutical Salt. Reply from Natures Energies: The manufacturer of the salt pod supplied a small amount of pharmaceutical grade salt for use with the unit. Pharmaceutical grade is so pure that it is suitable for injecting, which is overkill for the salt pod as we only need a mercury free salt. The replacement salt that we sell is a pink Himalayan rock salt, which is free of mercury and other heavy metals. This makes it perfectly safe for using in the salt pod unit.
Review
Beautiful, quiet machine that is easy to use. Just received it and after the 3rd night my daughter's nose is not irritated anymore and her pug dog sleeps well through the night as he used to wake up 4 times in the night to clear his throat. My husband uses it during the day as he is post heart attack/post smoker. Very impressed. I live in the USA and bought this from this web site.
Review
Exellent product and customer service.
Review
I ordered from U.S.A. The customer service is wonderful. Helped me understand the product so I was confident buying. Believe me I searched lots of places to get help with my grandkids allergies, and thank goodness found you. I was so pleased with the service and product, I ordered another. Highly recommend Natures Energies. Thank you.
Frequently Asked Questions( FAQ )
Click here to view Questions and Answers