---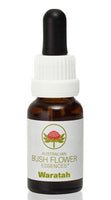 Sale
Waratah
Negative Condition:



• despair
• hopelessness
• inability to respond to a crisis

Positive Outcome:



• courage
• tenacity
• adaptability
• strong faith
• enhancement of survival skills
For the person who is going through a "black night of the soul", and is in utter despair. It gives them the strength and courage to cope with their crises and will bring their survival skills to the fore. This remedy will also enhance and amplify those skills. It's for emergencies and great challenges. This powerful remedy only needs to be used for a couple of days.
Preparation of Dosage Bottles

Place seven (7) drops of Stock Essence into a 15ml to 30ml dropper bottle filled with 1/3 brandy and 2/3 purified water.
Waratah Australian Bush Flower Essence Remedy
Frequently Asked Questions( FAQ )
Click here to view Questions and Answers