---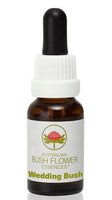 Sale
Wedding Bush
Negative Condition:



• difficulty with commitment

Positive Outcome:



• commitment to relationships
• commitment to goals
• dedication to life purpose
To be used with people who have difficulty in committing themselves to relationships, whether they be personal, social or business. This remedy can be taken when people begin a union or partnership. It helps in the dedication of that union or partnership. Its common use is for people who flit from one relationship to another, or, when the initial attraction fades.
Preparation of Dosage Bottles

Place seven (7) drops of Stock Essence into a 15ml to 30ml dropper bottle filled with 1/3 brandy and 2/3 purified water.
Wedding Bush Australian Bush Flower Essence Remedy
Customer Reviews
Happy
A good remedy to use.
Frequently Asked Questions( FAQ )
Click here to view Questions and Answers