---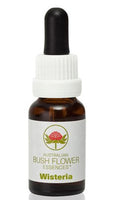 Sale
Wisteria
Negative Condition:



• feeling uncomfortable with sex
• closed sexually
• macho male

Positive Outcome:



• sexual enjoyment
• enhanced sensuality
• sexual openness
• gentleness
For people uncomfortable with their sexuality. Specifically for those who get tense about sex and are unable to enjoy it. This remedy relates especially to women, but can also be used with males. It's for people who cannot relax or those who are afraid of intimacy. In some instances it may be of benefit to use in conjunction with fringed violet, especially for the consequence of sexual abuse or assault. It benefits the 'macho male' personality and will allow him to be more aware of these softer feminine aspects. (Flannel Flower will help the male express these feminine aspects).
Preparation of Dosage Bottles

Place seven (7) drops of Stock Essence into a 15ml to 30ml dropper bottle filled with 1/3 brandy and 2/3 purified water.
Customer Reviews
Very happy
A good remedy.
Frequently Asked Questions( FAQ )
Click here to view Questions and Answers