---
Multi-Purpose Mixture - All 5 Gases Blended
20% Helium; 20% Argon; 20% Neon; 20% Krypton; 20% Xenon @ 500 psi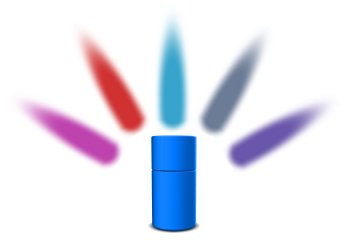 Click here to read about about the theory and use of the inert gas devices in general as well as realistic dimensions of the inert gas and magnetic field.
---
Finding it hard to determine what the right inert gas device is for you?
One can use 2 or more of each of the pure gas devices or combine different ones together as in the suggested mixtures shown on this page. Jon Fox from Hilarion.com recommends individuals sensitive to energies to start with the pure or nearly pure inert gas devices one at a time until the energy becomes more familiar. We recommend that you start with the Omnidirectional Inert Gas Beaming Device #11 as it is probably the most effective combination for dealing with many issues at once. It contains the argon/krypton blend for releasing and dissolving negative thought-forms. This is a favorite of many; when using this it seems that ones world is much happier place." We believe as the thought forms have been removed from the gases and the magnetics greatly improved that Omnidirectional Inert Gas Beaming Device #11 is suitable for all people. It contains a blend of 20% Xenon (for tissue regeneration and regrowth), 20% Argon and 20% Krypton (to destroy negative thought form attachments, considered by some as the basis to some forms of disease (as discussed in the Argon article), 20% Helium (to assist with sleep), and 20% Neon for lower chakra issues). 
| | | | |
| --- | --- | --- | --- |
| Container Material | Color | Dimension (cm) | Empty Container Weight (g) |
| Aluminium (Anodized) and Brass | Blue | Height 12; Diameter 5.8 | 829 |
Click here for instructions on using the inert gas devices.
Customer Reviews
I recommend this product
yes nice
first i felt an elation of my energy for around a week, then i started to feel like i had covid or the flue, now its worn off, my 3rd eye is active and i feel light nice
09/23/2021
Kevin C.

United States
I recommend this product
Noble Gas
The Noble gas canister feels like you are immersed underwater, the air becomes quite fluid. I have bought 2 canisters and several for other people.
Device #11
I recieved the Innert Gas Beaming Device about a mounth ago. when I recieved it in the afternoon, i was very tired. So I decieded too place it under my bed immediately, too take a nap. after a minute I felt like floating on my bed, and I had very vivid imagery scene while still awake. It was very powerful and I havn't had anything simular with any other energyproduct I buyed till this day. I now have adjusted too the energyfields produced by the device, but could only lie in the energyfield for half an hour in the beginning. Easily the best energy product I came across till now. the customer support of Greg Is also very good and he responded very quickly too my questions.
Review
My husband ordered your Omnidirectional Inert Gas beaming Device #11 and within two days I noticed a big improvement in my sleep and energy! This is a miracle for me as I had a very severe health problem lasting from 2002-2016 and I haven't been able to recover fully, especially with regards to proper sleep. I also noticed an almost immediate increase in energy. I've been using the device now for three weeks and I can walk roughly twice as long as I could before using this device and I can now walk up hills again! This device has renewed my hope! Thank you!
Review
Similar to another testimonial, I was driving home from town and felt an interesting sensation on my left leg and side, a tingling awareness. I looked at the passenger seat next to me and the device, still in its packet evidently must have been facing me in the "on" position. I have also experimented with beaming the device at my hydrogenated water and am looking forward to some interesting results.
Frequently Asked Questions( FAQ )
Click here to view Questions and Answers