---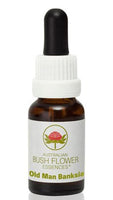 Sale
Old Man Banksia
Negative Condition:



• weary
• phlegmatic personalities
• disheartened
• frustrated

Positive Outcome:



• enjoyment of life
• renews enthusiasm
• interest in life
For people low in energy; slow moving people who have been disheartened by setbacks. It can equate with low thyroid activity; sluggishness, obesity and tiredness - very plethoric people. The Old Man Banksia is a gnarled and twisted tree and it seems to be a storehouse of old wisdom. It was one of the first plants discovered by Joseph Banks.
Preparation of Dosage Bottles

Place seven (7) drops of Stock Essence into a 15ml to 30ml dropper bottle filled with 1/3 brandy and 2/3 purified water.
Customer Reviews
Review
Great products. On time or early. Really like and have enjoyed using Thanks. Will order again
Frequently Asked Questions( FAQ )
Click here to view Questions and Answers